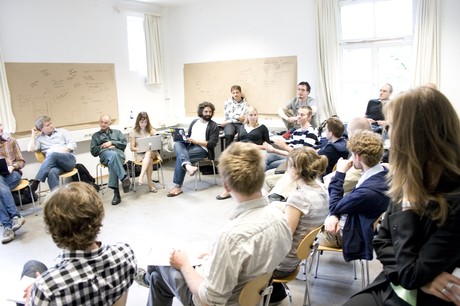 Thanks to the participants of our past summits:
Ayah Bedir, Jeff Hoefs(littleBits, NY)
David Cuartielles (K3, Malmö / Arduino)
Durrell Bishop (luckybite, London)
Gero Herkenrath (RWTH Aachen)
Jussi Ängeslevä (UdK, Berlin)
Olav Val(Kh, Kassel)
Tom Hulbert(RCA, London)
Tom Igoe(ITP, NY / Arduino)
Yaniv Steiner(nastypixel, Turin)

Alex Grunsteidl (DigitalWellBeing, London)
Christian Engler (Muthesius, Kiel)
David Mellis (Arduino)
James Haliburton (K3, Malmö)
Jan Sieber (Bauhaus-Uni, Weimar)
Lutz Dickmann (HfK, Bremen)
Massimo Banzi (tinker.it, Milan)
Matt Karau (UdK, Berlin)
Max Rheiner (zhdk, Zürich)
Michael Zöllner (FH Würzburg)
Universities and Organizations
FH Potsdam, Department of Interface Design, Potsdam
Bauhaus-University Weimar, Weimar
Mediamatic, Amsterdam
UdK, Berlin
FH Ansbach, Ansbach
Folkwang Hochschule, Essen
Interactive Telecommunications Program (ITP), New York
Arduino, Earth
How about you?
Are you using Fritzing for teaching or research? We'd love to add you to the list.