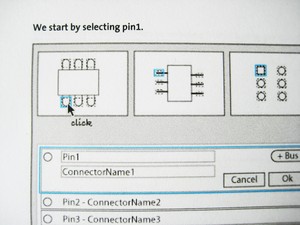 This is a high level overview; for details check our issue tracker.
SOONER
Website
Proper parts and project sharing
PCB View
Parts
User Interface
coherent cross-view concept for ratsnests (under way)
Parts Editor
More streamlined parts creation
LATER
Website
web-app part search integration
Breadboard View
PCB View
Presets for production options (diy vs. professional etching, etc.)
Autoplacement of parts
All Views
Fancy drawing options for wires/traces
"Tidy up wires" - put all wires/traces on a nice 90/45 deg angles
Support for off-board parts
Electrical rules checking
Hints on short circuits, wrong voltages, etc.
Modules (Composite Parts)
Turn a Fritzing sketch into a module
Publish and share modules
Define if modules will be integrated or external to your PCB
skinning modules
"code" modules for CPUs, FPGAs, etc.
Support for other EDAs
Export to KiCad, gEDA formats
Import footprints and schematics (partly done)
Programming Window
Basic IDE support for programming Arduino, other microcontrollers (partly done)
Project Documentation
Full range of export options